Howdy Howdy fisher people!  Time for an update on the Rogue River Fishing Conditions!
Rogue River Fishing Conditions:
After a very slow start to the spring Chinook salmon season, Rogue River Fishing Conditions seem to finally be picking up a little.  Over the last week, a lot more fish are being caught  – both hatchery and wild fish.  Fishing on the lower Rogue is entirely anchored up fishing from a boat or plunking from the shore using anchovies or straight spinners.  Just like everywhere else – any color is good as long as it's green.  Gold or brass also seem to be performing well. It's still a little slow at times, but fish are being caught.  For more info, check out the Oregon Fish & Wildlife report.
Bookings:
We still have quite a few openings for this year, but they're starting to fill up.  So if you're thinking about booking a trip or have been waiting for fish – now would be a great time!  Just give me a call at 541-441-0559, or send me an email at jtaylor@fishchinook.com and we'll see if we can't get you an experience that will last a lifetime!
New Boat:
I purchased a "new-to-me" boat recently.  It's a 22′ Jerry's Marine flat bottom.  I'm getting it ready to take out very soon (making sure the seats are comfortable and the boat is ready to perform well while we catch big lunkers 🙂  It's a rear tiller 200 Yamaha boat and this will allow a lot more action in the fall when we're side drifting for fall Chinooks and Cohos, and even more so when we're going after winter/spring Steelhead. We are going to catch so many fish on board this boat, I'm almost giddy 🙂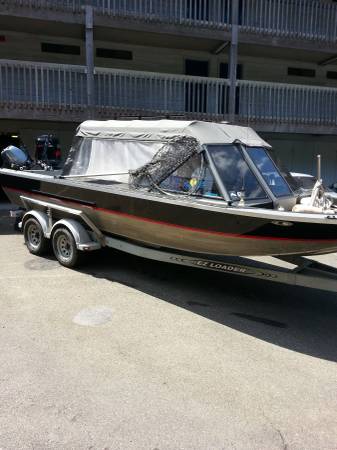 Wild Fish:
We hooked this fighting 20# king yesterday after about a 15 minute struggle to get to him to come to the boat!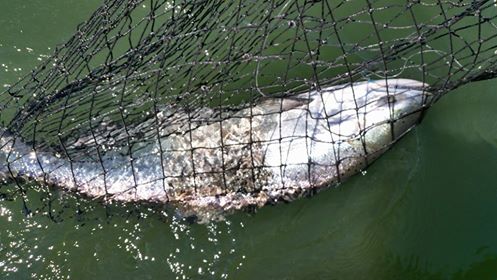 See ya on the river!